Updated on 20. July 2021 by Jan Bunk

Turn your website into an app.
Design your app for free in 5 minutes.
Just a quick search brings up a ton of different websites that offer to turn your own website into a mobile application. This makes it very difficult to find the best website to app converter. Therefore, we decided to create this comparison, so you can get an overview and make an informed decision.
Services in this Comparison
As there's new website to app converters popping up regularly, we will just take a look at the most popular ones. This will include the following services:
Gonative
Convertify
WordpressToApp
WebToApplication
Web2Apk
Appypie
Some Terms
WebView
A WebView is an app component used by app developers. It's like a browser, it simply shows a website. This is used in every website to app conversion service, so I will reference this frequently below. It's a very useful component for app developers, as it does most of the website to app conversion already.
But it has one big problem: If your app does nothing but display your website in a WebView, it will NOT get accepted into the Apple App Store and only rarely into the Google Play Store. This is clearly detailed in the App Store guidelines:
"Your app should include features, content, and UI that elevate it beyond a repackaged website. If your app is not particularly useful, unique, or "app-like," it doesn't belong on the App Store. If your App doesn't provide some sort of lasting entertainment value, it may not be accepted."
This is no reason to be angry at Google or Apple either, such an app that only shows a website provides no additional value, you can just visit the website in the browser. So to get accepted into the App Stores the app needs to include components aside from the WebView. Such components should use native design.
Native Design
Simply put, if an iOS app (or a part/component of it) uses native design, it follows Apples design guidelines for apps. The same goes for Android and the Google Material design guidelines. This is a requirement to get into these App Stores. The reasoning behind this is that all apps become a lot more beautiful and easier to use when everyone uses the same design that has been developed by experts.
Enough explanations for now, so without further ado, let's get right into the comparison of website to app converters!
The big Website to App Converter Comparison
Gonative
In its most basic version, Gonative is very easy to use. You just enter your URL, app name and e-mail and your app will be ready in just a few minutes. The problem with this is that it's just a WebView, nothing else. So like explained above, such an app will most likely get rejected when you try to publish it in the App Store. Ironically, Gonative already charges $790 for this service, even though you could argue it's not worth much if you can't publish your app.
But let's not get ahead of ourselves, Gonative offers more features. You can customize a lot with their apps, which also includes adding some native design components. However, a lot of these options are very complex to use and require knowledge of programming and scripting languages. Therefore, I can't recommend this customization to layman users.
The easier solution is using their "Full-Service App Configuration", where they take care of everything for you and customize the app for your website. With this, your app will include some native components, which should be enough to get accepted into the App Stores. Unfortunately, if you significantly change your website's structure, the native components will be out of place and won't fit your website anymore. This basically means your app will break if you rework your website. Also, your app will have design issues like having 2 headers, one from the app and one from your website: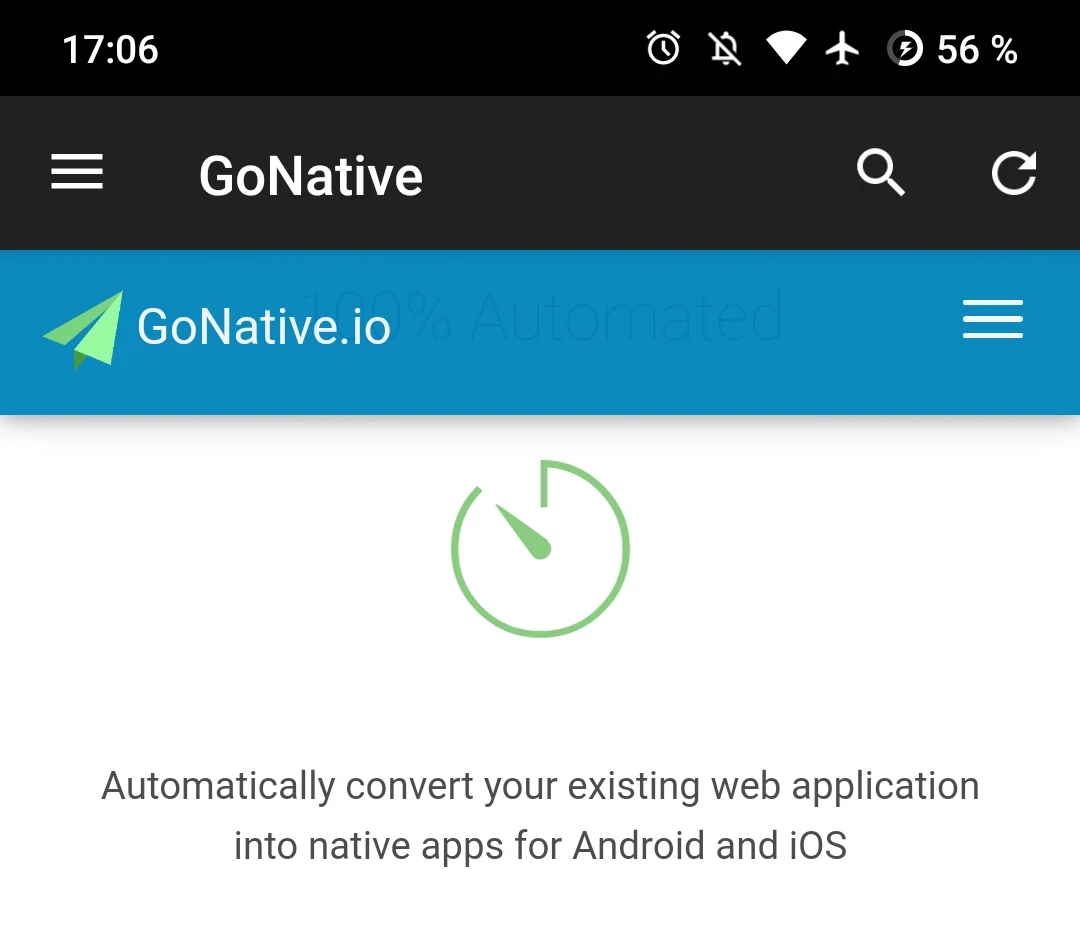 The main problem here lies in the price though. This service comes at an additional cost of $4000, so including the base price of $790 you will be close to $5000. If you'd like to also have push notifications in your app, you need to pay an additional $200.
In conclusion, I can't recommend Gonative. To get a decent product, you will have to pay around $5000 which is way too expensive for the offered service.
webtoapp.design
All apps we create come with plenty of native design components such as an app bar, a drawer menu with navigation items, a splash screen and more. Unlike with Gonative, these components are dynamically generated using artificial intelligence, so even if you completely change up your website, your app will still work, including the native design components. You also won't encounter design issues like having 2 app bars like I showed you above. All of this significantly increases the chances of getting approved by the App Stores. At the time of writing, every app by webtoapp.design has been successfully published in the Google Play Store and not a single one has been removed afterwards.
Additionally, all of this comes at a very fair price point. Depending on which additional features (like push notifications) you want, you can get an app for as little as $605. Apps by webtoapp.design also offer offline support - no other service on this list has this feature with similar capabilities.
The risk of trying our website to app converter is also minimal, as there's a 60-day full refund guarantee in case you're not happy with our service.
To sum it up, here at webtoapp.design we provide you a high quality app that will get accepted into the App Stores. It doesn't even require you to write code or perform any complex manual setup, it's all handled by us.
Obviously we consider our service to be the best, everything else would mean we're doing something wrong. After all it's the reason we founded webtoapp.design - to provide a better service than the current competition. If you let us know about a thing that we do worse than a competitor, we will gladly add it to this article. Either way we hope that this article, which just presents facts and our opinion on those facts, will inform you enough to make your own decision.
"After struggling with massive hurdles with another provider, we luckily found the team at webtoapp.design. The customer service is very reliable and responsive, you always feel like you are in good hands. They're also not afraid to go the extra mile until all customer requirements are met and the app is in the app store. I can recommend webtoapp.design with a clear conscience!"
Convertify
Convertify delivers very basic apps. They solely consist of a WebView, no native components at all. This leads to lots of reports of apps not being accepted into the App Stores. That in itself would be reason enough to stay away from this service, but there's a lot more reasons, many of which are breaking EU laws (which they have to follow because they serve EU customers):
No refund policy
No imprint
Breaking fair competition laws by using fake popups that overstate how many apps they are selling (if you look in the code or wait long enough you will see that it's always the same websites that supposedly ordered an app, however the times don't add up)
Writing fake positive reviews for their own service (Lucas Maldonado is one of the Convertify founders)
Security and privacy issues: if you enter any information on the Convertify website, it can be extracted by bad actors, as it's not password-protected. Proof of this has been shown to us.
Because of all of this, you will find plenty of negative reviews of their service, such as these: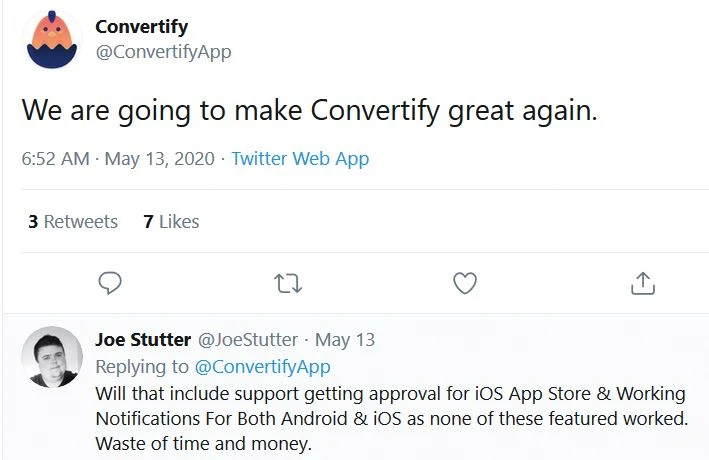 You can find a lot more negative reviews on their TrustPilot page. Even the positive reviews must be taken with a grain of salt, as we have shown above that they use fake reviews.
Their ProductHunt launch received absolutely awful reviews too, mostly because of plagiarism and a bad product. It currently has a 0.8 out of 5 rating, which we've never seen before. Here are some excerpts: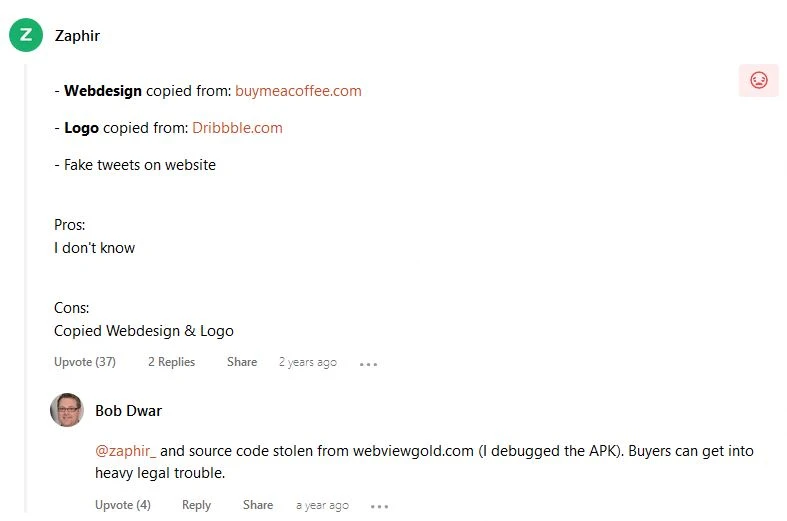 To put it all in a nutshell, we can only advise you to stay away from Convertify. Plenty of our customers received dysfunctional apps from them, only to then have us create a working one. We just don't want even more people get scammed by them.
WordpressToApp, WebToApplication & Web2Apk
This will be a short one, as these sites offer the EXACT same service as Convertify. It's run by the same people and they deliver the same product. The design is very similar and the site structure is actually identical. Additionally, they all link to each other, which isn't proof on its own, but all of this in conjunction with the fact that their apps look identical too, the connection is obvious.
Even their example apps are the same, which should be the ultimate proof: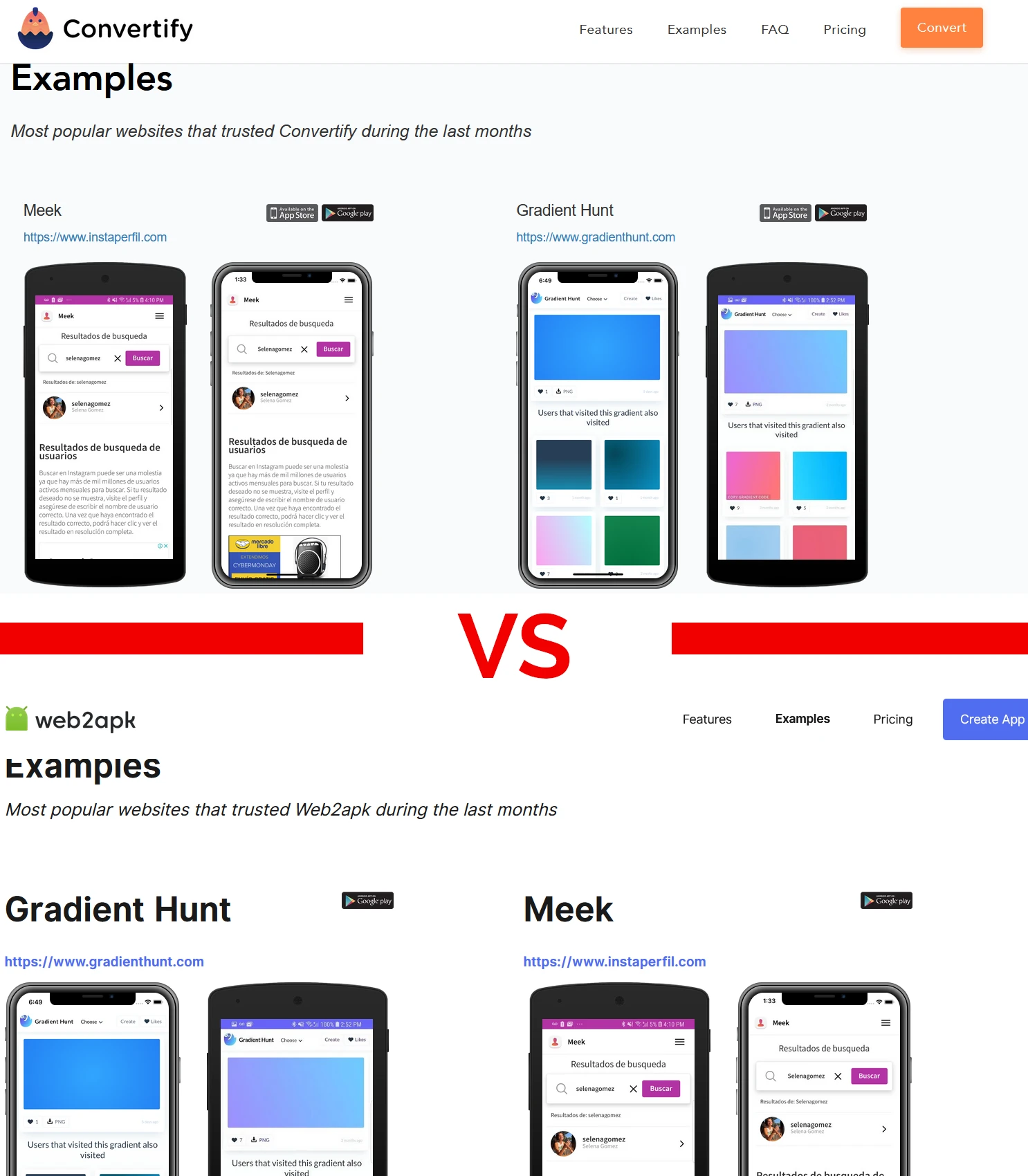 So please, don't buy from these sites - now you know what you'd be getting into.
AppyPie
AppyPie is not specialized on turning websites into apps, they normally offer an app builder, where you can create your app from simple, predefined building blocks. I can't speak a lot about that, as I'm only specialized on creating apps from websites. But after trying their website into app feature I'm sort of disappointed. The performance of the app was mediocre, it didn't run smoothly even though I tried it on a very powerful Android device. You're limited to one of 6 color themes (I picked gray), yet not even these are in a polished state, as you can see from this screenshot: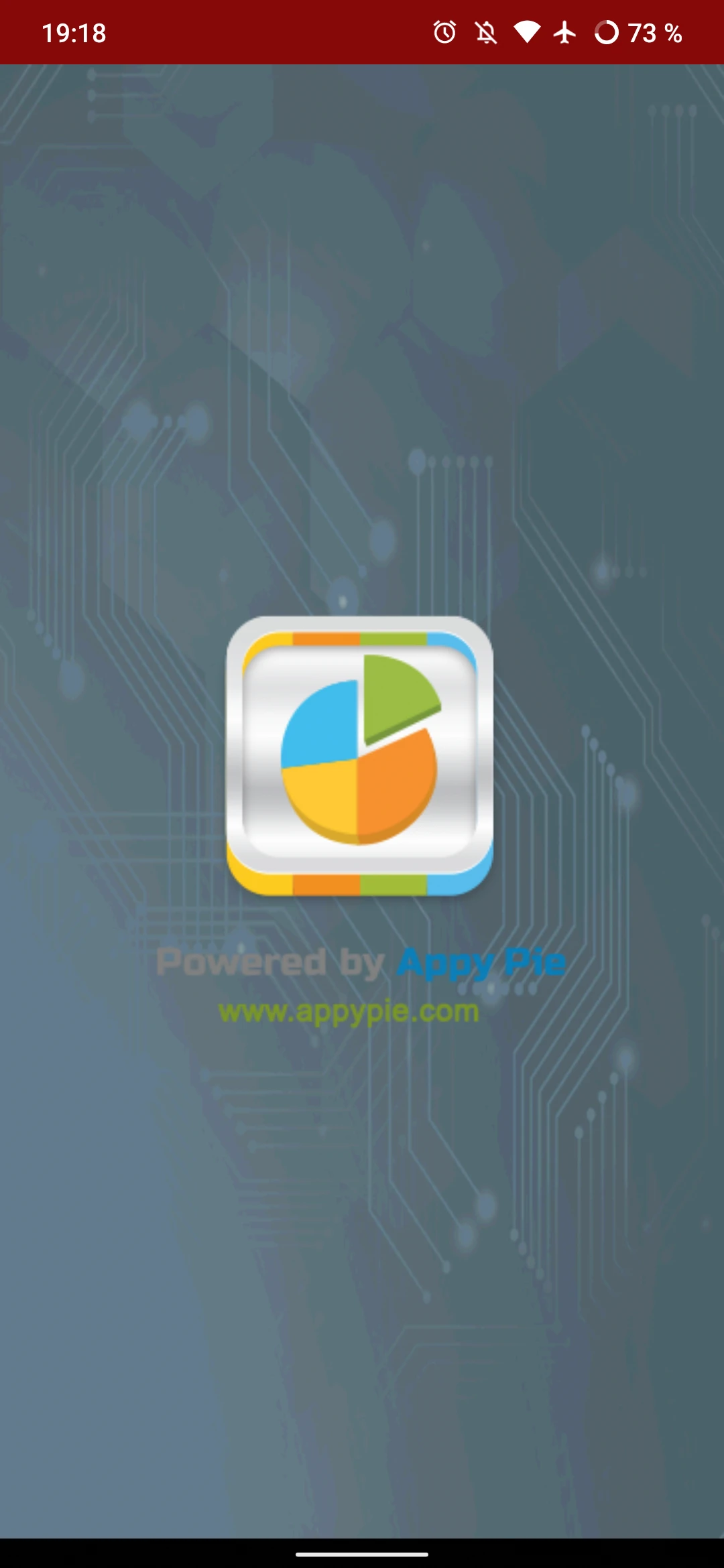 For some reason the (AppyPie branded) splash screen comes with a red navigation bar, which makes no sense at all. Sure, this is just a small issue, but it's the first thing your users will see when they download your app. And it's definitely not the last design problem in the app.
Here's how the actual app looks once it has loaded: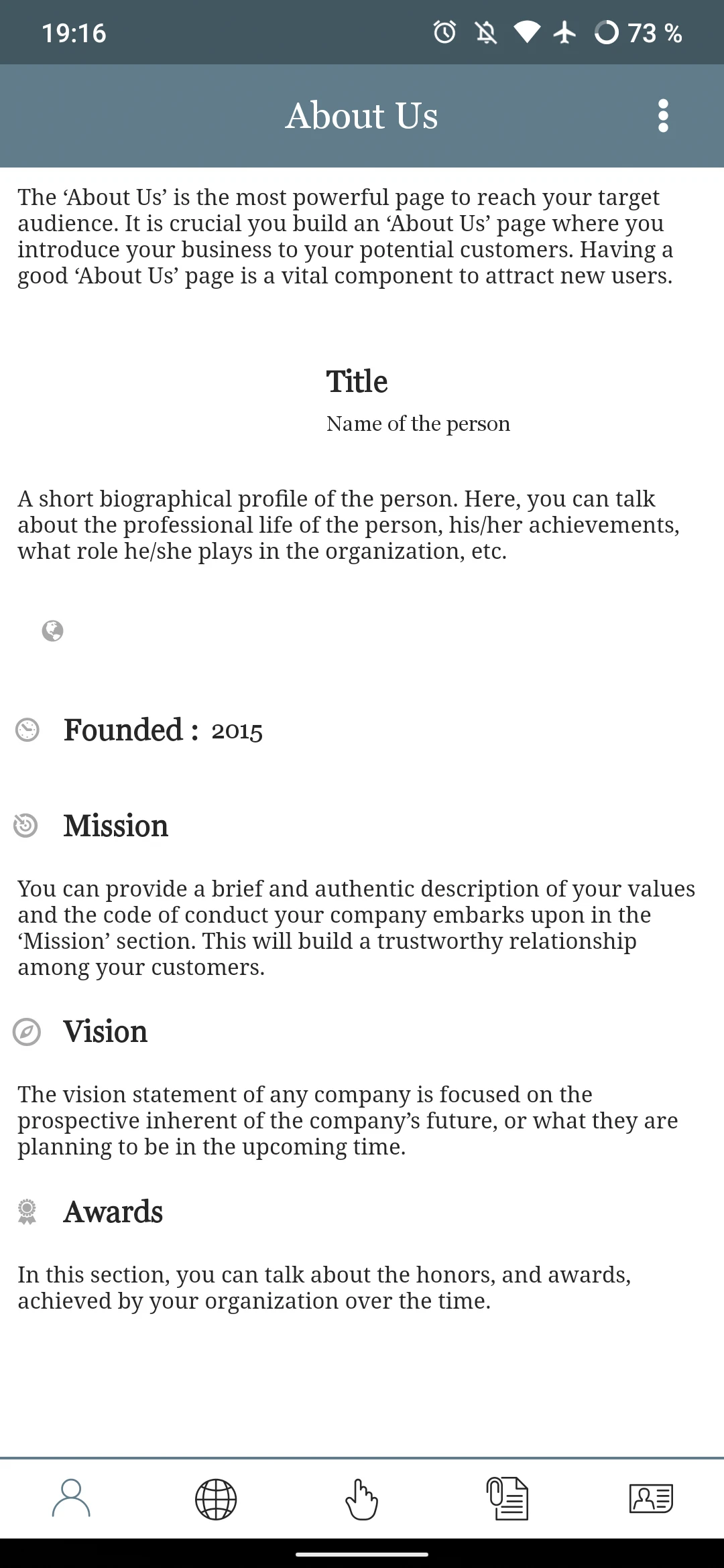 It shows you an "About Us" page, of which you can customize the information of course. But as you can see from the tabs at the bottom, it adds a lot of stuff you don't actually want if you just want to create an app for your website. You'd only want the second tab, which actually shows your website (I entered google.com as an example):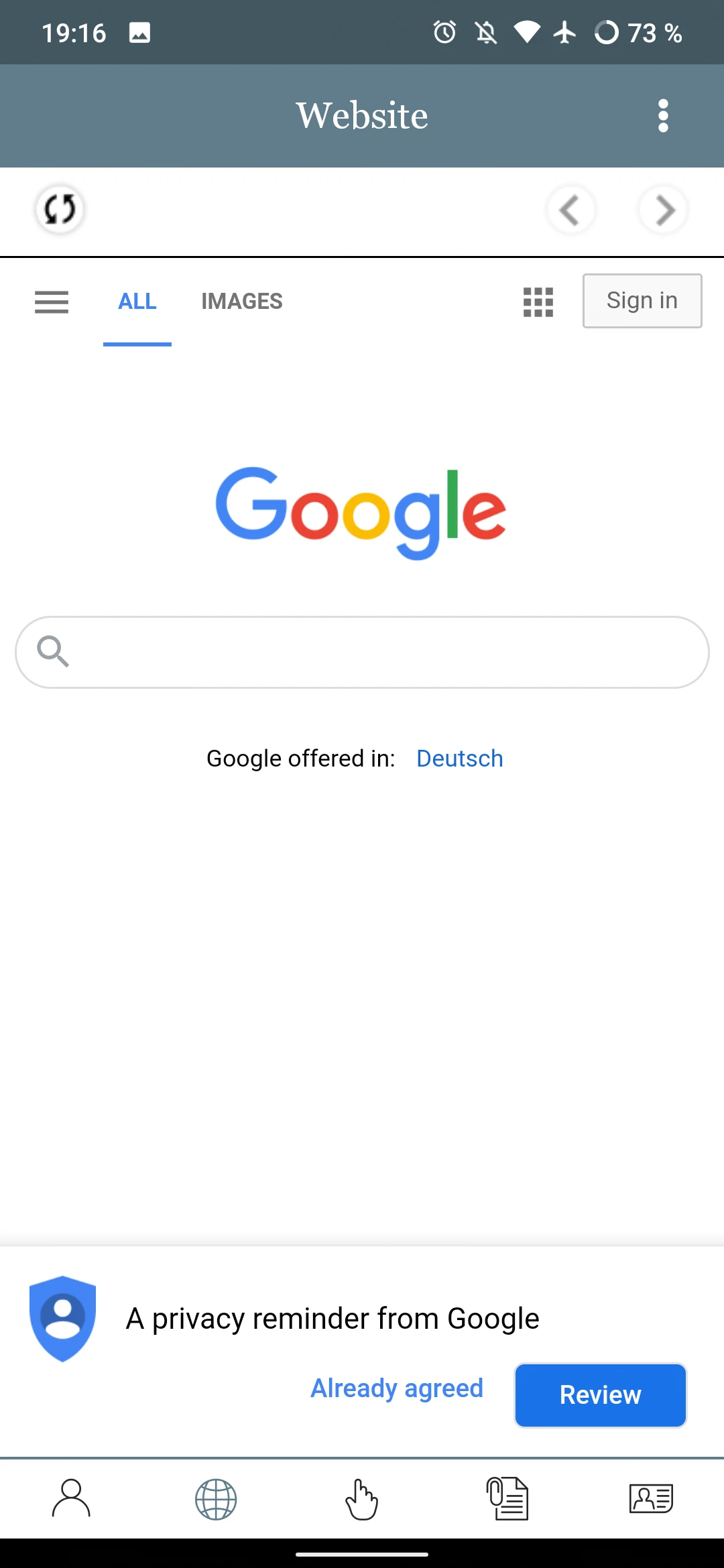 All in all, you will probably have a bunch of duplicate content in your app and you didn't really turn your website into an app with AppyPie. You will need to do a significant amount of extra work, because that content won't synchronize with changes you make to your website. Apart from that, I personally don't find the design (e.g. the icon style) particularly appealing, but to each their own. I can definitely assure you though that it doesn't follow the design guidelines from Google or Apple. It's up to you to decide whether this quality of app is good enough for you and your users. However, I find that our apps offered at webtoapp.design look better and are cheaper than AppyPie, depending on the plan you pick.
Conclusion
So, if you read this article completely, you will see that all of the other website to app converters have some sort of issues which we tried to avoid with webtoapp.design. Of course, we didn't want to make it an exclusive service that only big companies can afford, so we decided on a price that we consider to be fair for all involved parties.
Create an app from your website.
Design your app for free in 5 minutes.