Updated on 23. June 2023 by Jan Bunk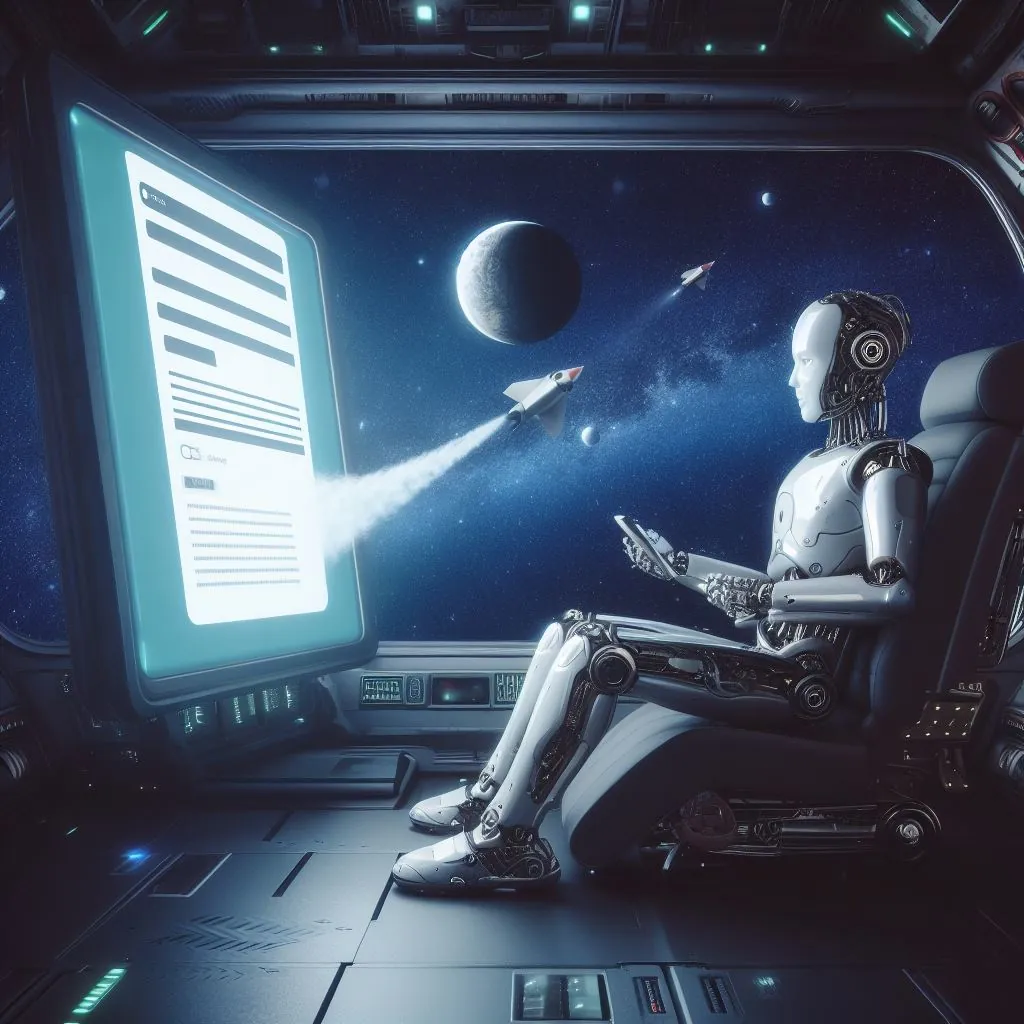 Create an app from your website.
Design your app for free in 5 minutes.
Nowadays mobile devices are more common than ever. There's 3.5 billion already and the number is growing by 300 million every year as they're becoming more affordable.
As a business owner you can use this development to your advantage. Every business should absolutely have a website anyways, so optimizing that for mobile devices is the first step. However as of 2019, only 10% of time on smartphones is spent browsing the internet. The remaining 90% are spent in apps. This has been an ongoing trend. In 2017 browsers still got 13% of the mobile usage time, but since then it has steadily been decreasing in favor of mobile apps.
But that's not the only reason why you should consider getting your own app for your website. Let's see what other advantages led 83% of B2B content marketers to say mobile apps are important for their marketing.
The Benefits of having a mobile App
We've previously explored all the benefits of apps but here are the most important ones applicable to you when you convert your website into an app.
Improved Brand Awareness
Everyone that has your app installed will regularly see it's icon on their phone. Just this quick glance can make them more likely to recall your brand when they think about a service you offer. Good brand awareness can bring in many returning customers but also increases the likelihood of your existing customers sharing your brand with other people who might need your service.
Customer retention is especially valuable when converting online shops to apps.
Apps offer Instant Access to your Site
Users can quickly reach your website at any time, they just need to take out their phone and click your app icon. They no longer need to open the browser and then search for your website or even slower, manually type in the URL. Removing this friction can make all the difference in whether a potential customer chooses you or your competitor.
Easy access is essential if you want users to visit your website (turned into an app) often, for example with blogs where you regularly publish new articles.
Offline Access
Nobody can look at your website while they have no internet connection. With an app you can change that, users can see all important content that has been cached on the device, even while they don't have wi-fi or mobile data. Unfortunately this doesn't work with all websites, as it depends on the website's code, but it's a nice bonus for the sites where it does work.
Push Notifications
With an app you can send everyone that has your app installed notifications, like when receiving a text message. These notifications are perfect for letting your users know about specials and promotions they can find on your website and in the app. It's like a mini newsletter!

Regularly Returning Users
When your users have your app installed, they are more inclined to regularly browse it, even if they're not looking for anything specific. You can get quite a few extra conversions just from this recurring traffic. We went into further detail in this article about user engagement and retention.
New Traffic Source
Having your website and its app listed in the Google Play Store and the Apple App Store can be a great new source of traffic. This is because many people directly look for an app that solves a problem or desire they have. They don't even check whether there's a website that could help them! Quite interesting, but I have to admit that I've done that too. With your app in the app stores, you can also access these potential customers.
---
Why you (probably) don't have an App yet
I'll go out on a limb and say you don't have an app already if you're reading this article. Many businesses would love to have their own app, but can't afford to spend upwards of 20000€ on it. Especially for smaller businesses this is not an option.
That's where I'd like to introduce you to a different approach. You already have a website, so why code an app from the ground up when you can leverage that? You can do so by converting your website into an app. As long as you choose the right converter, you still get most of the above mentioned advantages of an app. We've done a comparison of the best website to app converter services that will hopefully help you decide.
---
Features of our Apps
Let's take a detailed look at all the features our apps have to offer. That way you can get a feel for how our apps cover all the possible advantages of having an app.
Offline Availability
All apps created by our website to app converter can show many parts of your website even while the user doesn't have an internet connection available. Of course this is limited by the fact that they can't actually reach the live version of your website without an internet connection, so for example they couldn't send you a message via your contact form.
Always Up To Date
However, if the user has an internet connection, the app will automatically stay up to date with your website. This means that if you add a new page or change anything on an existing one, those changes will immediately show up in the app as well.
When you change big, structural aspects of your website, an app update may be necessary. Check out our more detailed app update guide for more information.
Support for all Website Types
We can convert any website into an app, no matter what framework it's built on (or even if it's not a pre-made framework). Examples of these are Content Management Systems like WordPress (did you know that about a third of the world's websites use WordPress?), Joomla, Wix or Squarespace — and we support all of them! This ties right into the next point:
Wide Compatibility
Just like we want to be compatible with any type of website, we make sure our apps run on any decently modern Android and Apple iOS device. Which makes sense, as you probably agree that an app that doesn't run on most devices isn't too useful. Based on data available to developers we can accurately estimate that our apps run on over 97% of devices. This is comparable to some of the most popular apps, like Instagram. To achieve this compatibility with new devices and operating system (Android, iOS) updates, we continually update all apps we maintain. Another aspect that also requires regular maintenance is:
Security and Stability
Even with the most care and very thorough testing procedures, no software is completely free from potential performance or stability issues. So by continually working on the app we can quickly discover such opportunities for improvement and take advantage of them. Additionally, we dedicate a lot of our resources to making sure the security of all of our apps is on point. This also includes using industry-standard encryption when the app loads your website to display it to the user.
Native Design
All of our apps come with the native app design. This means that they follow the design guidelines for apps that have emerged over the years. These standards are also enforced by Apple and Google, so it's a lot more difficult to get into the Google Play Store or the Apple App Store if you don't follow them. Luckily we take care of that for you, so you don't need to change anything about your website's layout. In particular, we add the following design elements, shown with screenshots from our example app: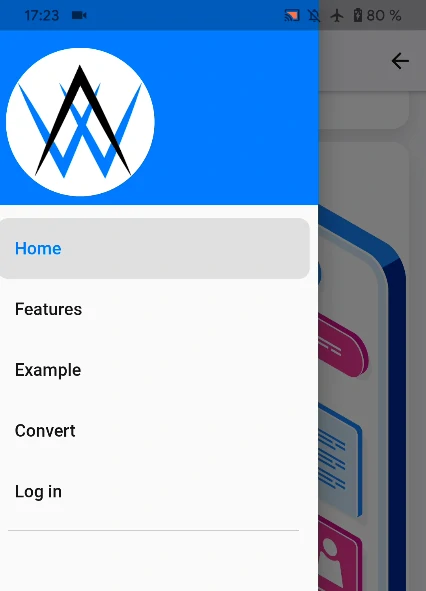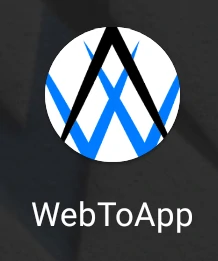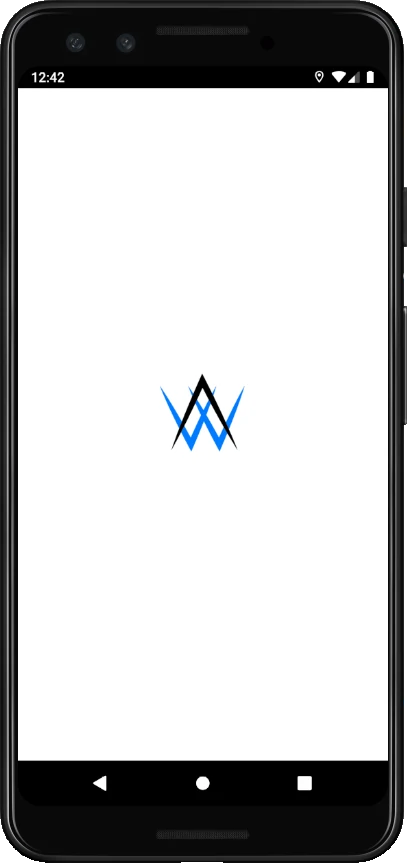 Perfect Branding
As you can see in the above images, the apps are always tailor-made to include your branding. Obviously most of the content of the app is your website, so you have your desired design in that part too. In our comparison with other websites that offer a website to app conversion we found that some of them put their own ads in their customer's apps. We think that ruins the app experience, so we don't do any of that. However, if your site displays ads, those will be shown of course.
Short Development Time
We take advantage of the fact that you already have a working mobile-friendly website, so we don't need to code your app from the ground up. Therefore we can get your app ready in just a few days. I consider that an amazing turn around time compared to multiple months, which is not unusual when developing a completely new app.
---
Add-ons
Aside from the above features that are always included, we also offer optional features that can make your app more potent.
Push Notifications
With this add-on you can send as many push notifications as you'd like. Everyone that has your app installed will receive them. As we've talked about above, these notifications are perfect for letting your users know about specials and promotions they can find on your website (and therefore in the app).
Read more about use cases and benefits of push notifications in apps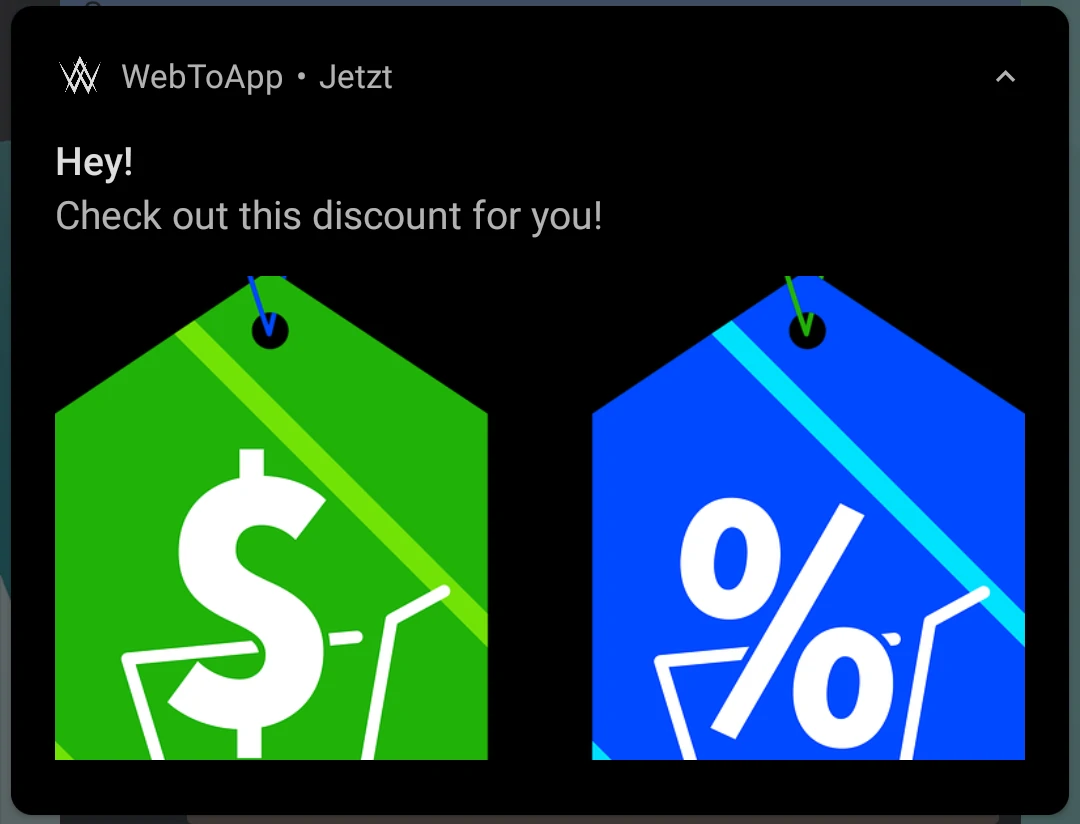 Review Reminders
If you want your app to be discovered on the Google Play Store or Apple App Store, you need to get as many positive reviews from your users as possible. I've also written an article about how and why to get better reviews with review reminders.
With this add-on you can expect a significant increase in the amount of reviews you get, as most users just don't think about rating an app if they're not reminded. These review reminders are only shown to frequent users of your app, as these are the most likely to give you positive feedback. Of course you don't want to bother them by constantly nagging them about leaving a review, so they can just tap a button to hide the dialog forever. You can see an example of such a pop-up below.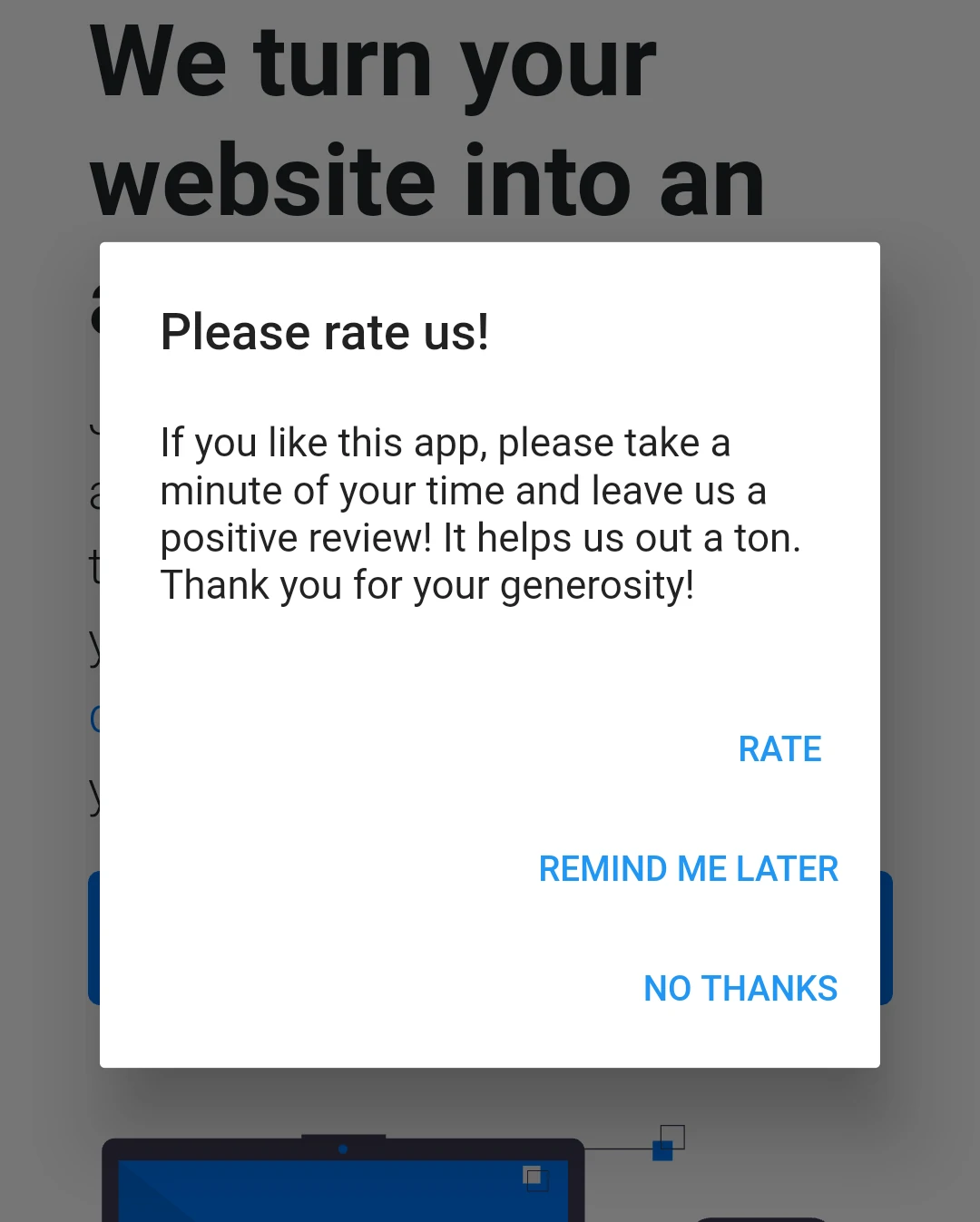 App Publishing
After we created your app, it needs to get published in the app stores, so your users can download it. We have easy to follow guides for various app stores you can publish your app in. We have also written a comparison of the best app stores that you can check out to decide which app stores you'd like to use.
webtoapp.design Alternatives
Of course there's also other ways to have your website as an app. Unfortunately, the services of our competitors often come with a plethora of issues - which is actually the reason we started webtoapp.design! Here's a quick breakdown:
What our customers, who first tried other website to app converters, told us.
webtoapp.design
Other Website to App Converters
Easy app publishing guides & support in case of problems
Outdated and incomplete guides, deal with app review problems yourself
No-Code solution with detailed step-by-step guides
Deal with technical issues yourself
Requirements: MacOS computer, knowledge on compiling apps
100% app store approval rate
Apps usually get rejected by the app store
Easy & quick communication with your customer success manager
Unreachable and evasive support
60 day full refund guarantee in case you don't love your app
No refund guarantees
And here are some more details why webtoapp.design is the best website to app converter.
Make your website an app.
Design your app for free in 5 minutes.